Sign up for our newsletter
Blossman Gas Celebrates 70 Years in Business
70 years ago, Blossman Gas, a full-service company that provides everything from propane delivery to appliance sales, installation, and service, was founded by Woodrow "Woody" Blossman in Ocean Springs, MS. Within the first twenty years of Blossman going into business, the company went from one store in Ocean Springs, MS, to fourteen stores spanning three different states in the southeast. John Blossman, son of Woodrow, later led the way while the company expanded into new markets when he served as President of Blossman Gas from 1970 to 1990, going from 14 locations to over 40.
Early Years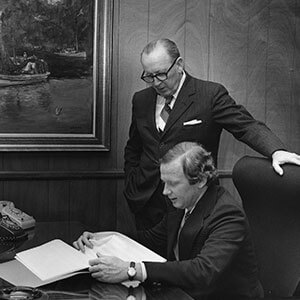 With safety as one of its founding pillars, Blossman Gas was one of the first propane marketers to embrace the National Propane Gas Association's GAS Check Program. Gary Sly, Director of Technical Services, is the longest tenured employee for Blossman. "I came on in 1982 as a mechanic for the company in Ocean Springs, MS. I moved around to many of our locations, and was fortunate to work with our company's current CEO, Stuart Weidie, when he managed our location in Burnsville, NC. I was working as Service Technician in Burnsville at the time, and I like to think I helped him learn some technical skills while he taught me a lot about management." Sly eventually joined the Safety Department at Blossman, where he played a pivotal role in the company embracing the GAS Check Program. "Having our service employees trained in the program made big difference for our company from both a safety standpoint and customer satisfaction." Now serving as Director of Technical Services, Gary is often teaching classes to Blossman employees and helping to create new, innovative propane products for the company. Gary is a co-inventor of Warm Front, a propane-fueled window heater recently brought to market. "Throughout all my years with the company, we were always blessed to have great leadership every step of the way."
Growth
Blossman saw tremendous growth in new markets again throughout the beginning of the 21st century, spanning across the Carolinas, Virginia, and Tennessee. Wanda Cummings, Branch Administrator for the Blossman location in Douglasville, GA, has been with the company since 1987. "I started in the late 80s in Franklin, GA, after the gas company I was working for was acquired by Blossman. In the early 2000s, our store was absorbed into other Blossman locations throughout Georgia, and I was offered a position at our Douglasville store. The commute takes over an hour for me; however, I knew I wanted to stay a part of the Blossman team." Along with her service in the Douglasville store, Cummings conducts training for new administrators and has been a member of several specialized teams during software changes for the company. "Seeing the technological advancements we have undergone as a company has been remarkable. It's been a pleasure to work with Blossman over the years."
Now up to 76 stores throughout the southeast, Blossman Gas continues to revolutionize the propane industry. David Reynolds, Chief Operations Officer, has seen the advancements first-hand during his 35-year tenure. "It has been a pleasure to dedicate a career to our company. A company committed to serving a greater cause than itself, filled with wonderful people who have a deep seeded service mentality. It has been rewarding to see a company that recognizes that change and innovation are things to be embraced, and not feared, to evolve and remain relevant in the current business environment," says Reynolds. Over the 70 years of Blossman's existence, the company's values have always been apparent. Waynes Reeves, Branch Manager for the Lucedale and Richton, MS, locations, has been with the company since 1985. "I was working in construction in the early 80s and was not getting to spend any time with my family. I came on as a gas salesman because of the quality reputation the company had. It's been great to see all of the improvements our company has sustained throughout the years. From our fleet vehicles to the computer systems we use now, it all makes for a better experience for our customers. When I was delivering propane, there was no GPS to find new customers. Now, we have systems in place where customers can make a gas order via text message. We have really embraced technology company-wide, which benefits both our employees and our customers."
Moving into the Future
Alliance AutoGas was founded by Blossman Gas in 2009, to promote propane as a vehicle fuel (referred to autogas), and has experienced steady growth, which continues to this day. Alliance AutoGas is an international network providing a comprehensive propane autogas solution to medium and heavy-duty fleets. Stuart Weidie, CEO of Blossman Gas and President of Alliance AutoGas, has played an essential role in the growth of the autogas market throughout the propane industry. Blossman Services, Inc. was formed in 2013, which is the exclusive United States distributor of Westport's Prins Autogas Systems. In 2014, Alliance AutoGas and Blossman Services, Inc. opened the Alliance AutoGas Research & Development Center in Asheville, NC.
Moving into the future, Blossman Gas continues to be on the forefront of innovations within the propane industry. Along with bringing new products to market, Blossman is also one of the early adopters of renewable propane, giving the propane industry a path to achieving net-zero carbon emissions. "Celebrating 70 years in business is a wonderful milestone for our company. The most satisfying aspect of this is that we have never strayed from Woodrow Blossman's original purpose for Blossman Gas, which was 'to exist for the benefit of the employees and that our success depends on rendering superior service to our customers,' says Weidie. "Blossman has pursued many different aspects of business through the years, and while propane gas is our primary focus, we also believe there will be supplemental paths to provide reliable energy and comfort to homes and businesses in the future."